Interview de Mick Pointer (Arena)

Grâce à Built By France (que nous remercions d'ailleurs chaleureusement), Music In Belgium a obtenu une interview de Mick Pointer cheville ouvrière du groupe Arena qui sera bientôt de passage en Belgique le 8 mai prochain pour promouvoir la sortie de son nouvel album «Double Vision» (sortie prévue le 25 mai 2018).
MIB: Le groupe Arena a été créé en 1995. En plus de 20 années d'existence et au bout de 9 albums studio, comment décrirais-tu l'évolution de la scène musicale en général?
Mick: Comme vous le savez sans doute, Clive Nolan et moi-même avons créé un label: Verglas Music. C'est le label du groupe Arena. Nous avons donc été aux premières loges pour assister au changement radical dans la manière dont les gens consomment et achètent de la musique. Lorsque nous nous sommes rencontrés au début des années '90 et que nous avons décidé de former un groupe et de sortir notre premier album «Songs from the Lion's Cage» en 1995, tous les contacts se prenaient encore par téléphone, télécopie ou simple lettre. À l'époque, on consommait la musique en achetant le CD, le vinyle ou la cassette. Nous recevions des commandes du monde entier et nous expédions les commandes par voie postale. De nos jours, il existe une quantité innombrable de sociétés de coursiers en tout genre, ce qui n'était pas le cas à l'époque. C'est pourquoi nous avions aussi dans chaque pays un distributeur chargé d'alimenter les disquaires. C'était aussi l'époque où l'on pouvait acheter de la musique dans des catalogues de vente par correspondance.
Les choses ont changé du tout au tout, ce qui est à la fois un bien et un mal. Beaucoup de gens n'achètent plus aujourd'hui de support physique pour la musique qu'ils écoutent, mais ils la téléchargent sur des sites comme Spotify ou iTunes. Force est aussi de reconnaître que beaucoup téléchargent leur musique gratuitement, privant ainsi les musiciens d'une partie importante de leurs revenus.
MIB: C'est ce qui explique d'ailleurs que de nombreux artistes sont contraints d'avoir une activité rémunérée à côté de leur carrière musicale… :
Mick: Pas les membres d'Arena, fort heureusement. Nous vivons de notre musique, que ce soit au sein d'Arena ou dans le cadre d'autres projets.
MIB: Le groupe existe depuis plus de vingt ans et a connu certains changements d'effectifs. Comment sont l'entente et la cohésion au sein du groupe dans le line-up actuel?
Mick: Il ne faut pas perdre de vue que Clive Nolan et moi-même travaillons ensemble depuis plus de 25 ans. John Mitchell est guitariste du groupe depuis plus de 21 ans. Et Paul Manzi, notre chanteur, est avec nous depuis plus de 8 ans (et 3 albums). Notre bassiste Kylan Amos est le plus jeune membre de l'équipe puisqu'il a rejoint le groupe il y a quatre ans. Je comprends les inquiétudes que peut susciter un changement de line-up auprès des fans, mais il ne faut pas oublier que les principaux auteurs (Clive, John et moi) travaillent ensemble depuis plus de 20 ans!
MIB: Les nouveaux venus que sont Paul et Kylan ne participent pas à l'écriture?
Mick: Si, ils ont été associés à l'écriture pour le nouvel album. Mais pour revenir à la question précédente, si je peux comprendre l'inquiétude des fans, je pense que les changements d'effectifs au sein du groupe n'ont jamais affecté vraiment notre écriture. Mais en même temps, les changements d'effectifs sont inéluctables à mesure que les temps passent. Notre entourage à tous se modifie à cause des séparations, des divorces, des circonstances de la vie…
MIB: Le nouvel album s'appelle «Double Vision». Vous avez posté sur la toile un trailer qui nous a mis l'eau à la bouche. Ce nouvel album s'annonce comme un très grand cru. Arena est sur le point de partir en tournée pour promouvoir ce nouvel opus. À quoi les fans peuvent-ils s'attendre?
Mick: En fait, nous venons d'entamer la tournée. Nous avons déjà donné deux concerts le week-end passé dans le nord de l'Angleterre. Le week-end prochain, nous avons deux concerts que nous jouerons à guichet fermé, le premier à Londres et le second dans le cadre d'un petit festival au Pays de Galles. La semaine prochaine, on embarque dans le «tour bus» pour une série de dates sur le continent européen.
Le concert célébrera le 20e anniversaire de l'album «The Visitor» et pour marquer le coup, nous jouons cet album dans son intégralité (chose que nous n'avons plus faite depuis 20 ans). Il y aura aussi des images projetées à l'arrière-plan de la scène. Dans la seconde partie du concert, nous jouons deux morceaux du nouvel album, dont un en acoustique. Pour le reste nous jouons encore cinq morceaux qui figurent parmi les incontournables, comme «Solomon» qui est extrait de notre tout premier album. Le concert dure un peu plus de deux heures. Les réactions que nous avons eues jusqu'ici sont fantastiques. Je pense que les fans apprécient. C'est très encourageant!
MIB: Après autant d'années, quel est le déclencheur qui fait que vous vous décidez à écrire un nouvel album?
Mick: «Double Vision» n'est quand même que le neuvième album du groupe en 20 ans, ce n'est pas comme si nous produisions un album tous les 6 mois (rit). Il faut beaucoup de temps et une sacrée organisation pour arriver à faire un album. Il faut aussi tenir compte de l'agenda de chacun. Comme vous le savez, John Mitchell est aussi impliqué dans une série d'autres projets (Kino, Lonely Robot, Arena, Frost*, It Bites). Idem pour Clive Nolan avec ses comédies musicales («She») et ses autres groupes (Pendragon, Shadowland). Quant à notre chanteur, il officie aussi avec Cats In Space. Pour ma part, je m'occupe aussi de diriger le label. Bref, cela vous donne une petite idée des problèmes d'agenda. De plus, nous faisons tout nous-mêmes et c'est d'ailleurs peut-être ce qui nous permet d'être toujours là aujourd'hui et de vivre de notre musique.
Pour faire le lien avec une des questions précédentes, nous avons tous plusieurs activités, mais toujours dans le monde de la musique et en lien avec Arena. Je m'occupe par exemple de booker toutes les dates de notre tournée. Même les photos et l'artwork sont faits par notre bassiste qui est un photographe semi-professionnel. C'est la seule manière de continuer.
MIB: Arena est devenu une référence dans le monde du rock progressif. Est-ce que le groupe a évolué avec la scène prog ou a-t-il suivi une évolution plus personnelle?
Mick: C'est une question difficile. Peut-être faudrait-il interroger notre public. Il est sans doute mieux placé pour répondre à cette question. Quand nous écrivons, nous composons la musique que nous aimons. Nous ne serions pas capables d'aller à l'encontre de nous-mêmes ou de cesser d'être nous-mêmes. Chaque membre s'intéresse aussi à d'autres types de musique: Clive a ses comédies musicales et il adore ça, John adore la musique des années '80 et s'en donne à cœur joie dans ses projets en solo. En ce qui concerne Arena, nous nous montrons toujours très sévères et critiques à propos de nos propres compositions. Nous faisons de même entre nous: si j'écris quelque chose que Clive n'aime pas, il me le dit. Et vice versa. Nous nous montrons très exigeants les uns envers les autres et c'est ce qui permet d'arriver à un album correct en bout de course.
MIB: Voilà qui explique sans doute le haut niveau de qualité de la production d'Arena ?
Mick: Oui, c'est le but. Nous ne ménageons ni notre temps ni nos efforts. Nous avons passé un an et demi à préparer le nouvel album «Double Vision».
MIB: Quel est l'album d'Arena que tu considères comme le meilleur ou comme ton préféré?
Mick: Je dois reconnaître que je les aime tous. Il y a eu notre premier album «Songs from the Lion's Cage», qui a beaucoup compté. L'accueil que nous avons reçu à l'époque était formidable. C'est ce qui nous a mis en selle et aidé à tenir dans les moments difficiles. Et puis «The Visitor» qui a fait connaître le nom d'Arena qui est ainsi devenu un des grands noms de la scène prog. J'ai un petit faible pour l'album «Contagion» (2003). Mais je les aime en réalité tous. Et le petit dernier, je le trouve particulièrement réussi. Nous avons fait du bon travail et la production est épatante.
MIB: D'après ce que l'on a pu entendre, cet album a en effet un son très moderne…
Mick: Oui. Et c'est un gros atout d'avoir au sein du groupe, mais aussi dans notre entourage, des gens si talentueux qui parviennent à réaliser ce genre de tour de force. Nous avons tout fait en interne: depuis l'écriture jusqu'à l'artwork, sans oublier le son, les photos… Nous y avons vraiment mis le meilleur de nous-mêmes.
MIB: Encore toutes nos félicitations pour ce neuvième album et rendez-vous dans quelques jours au Spirit of 66 à Verviers!
Mick: Merci aux lecteurs de Music In Belgium et bonne écoute!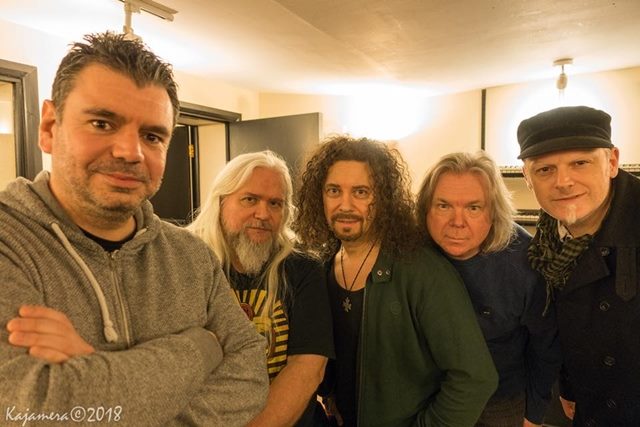 Pour précommander le nouvel album «Double Vision»:
Photos © 2018 Arena