Groupies for Peace au Bota

Fers de lance, aux côtés de Palma Violets avec lesquels ils sont souvent associés, d'un revival indie britannique initié en 2012, les quatre bad boys de Peace ont sorti le mois dernier "Happy People", leur deuxième album. C'est à la Rotonde du Botanique qu'ils l'ont présenté au public belge ce mardi 3 mars. À plus d'une heure de l'ouverture des portes, une dizaine de groupies font déjà le pied de grue devant la salle. Particularité : elles ont toutes parachevé leur maquillage de poudre scintillante ("parce que Peace, ils adorent les paillettes !", confiera l'une d'entre elles, devant notre regard interrogatif. L'histoire ne dit pas si l'objectif avoué était le bus de tournée.
Ceci dit, ce sont elles qui, collées devant la scène, ont mis l'ambiance pendant la première partie signée The Mash. Les Hutois avaient déjà officié à ce stade en mars 2010 lorsqu'ils avaient ouvert pour Girls à l'autre bout du couloir. Mais, malheureusement, on ne peut pas dire que ces cinq années aient drastiquement modifié notre perception les concernant.

On les retrouve en effet dans ce même moule pop rock conventionnel aux parties de guitare certes mises en avant, mais aux riffs proprets destinés à ne jamais heurter la sensibilité des spectateurs. Encore que, il ne s'agit pas d'une constante car lorsqu'ils prennent la peine de construire leurs morceaux ("Here I Come" et "I'm On The Run" notamment), on se rend compte que l'on ne secoue pas une coquille vide.
Et s'ils amélioraient leur communication avec le public, ils feraient également un grand pas en avant (un reproche que l'on fera également à leurs compatriotes de Showstar le lendemain au même endroit). Des points d'attention à travailler avant la sortie de leur nouvel album prévu "certainement en automne", d'après leur leader Maxime Wathieu.
En avril 2013, Peace avaient joué au Witloof Bar en support de leur premier album, "In Love". Vu l'accueil critique et commercial qui lui avait été réservé, la pression était sur leurs épaules au moment de penser à son successeur. Et à ce propos, ils ont impeccablement géré la pression car "Happy People" montre une ouverture d'esprit et un début de maturité qui leur permet d'évoluer d'une manière intéressante. Sur disque en tout cas.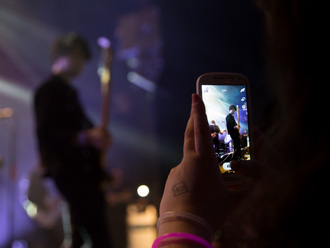 C'est toutefois avec un ancien titre, "Follow Baby", que les choses vont se mettre en place. Nos groupies sont hystériques et vont le rester pendant tout le concert, hurlant entre les morceaux et chantant les paroles le reste du temps, smartphone en main. Elles vont sans relâche faire des yeux doux à Harry Koissier, le chanteur aux cheveux permanentés qui gardera son trenchcoat et son sourire en poche de bout en bout du show. On se demande d'ailleurs si les quatre membres du groupe n'avaient pas joué au jeu de la barbichette avant de monter sur scène.
Le set va vraiment prendre son envol avec l'excellent "Money", le premier nouveau morceau de la soirée, groovant à souhait. Mais un "Gen Strange" beaucoup trop pop va instantanément faire retomber notre enthousiasme. Surtout qu'un "Float Forever" convenu (les vagues avec les bras de rigueur…) ne va rien arranger, pas plus que "California Daze" dans le même ordre d'idée un peu plus tard. En tout cas pour nous car les demoiselles sont, quant à elles, plus que jamais en émoi.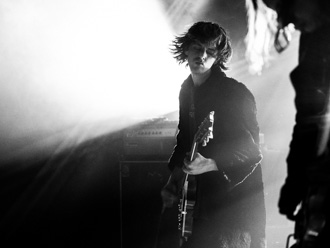 Les extraits du nouvel album, encore récents pour nos oreilles, partent dans des directions disparates qui mettent en avant le problème de Peace que l'on résumerait par un manque de personnalité. Ainsi, on va penser tour à tour au Duran Duran du début des années 80 ("Lost On Me"), aux Killers ("Perfect Skin") tandis que, lors des rappels, "World Pleasure" associera un refrain à la Franz Ferdinand à des riffs inspirés des Stone Roses.
Mais ce n'est pas terminé car les guitares de "Bloodshake" iront lorgner du côté de Foals et, "1998", une reprise d'un titre orienté dancefloor de Binary Finary qu'ils s'approprient admirablement bien en lui réservant un traitement à la Muse, ne sera pas loin d'être le meilleur moment de la soirée. Cela avait déjà été le cas un étage plus bas voici deux ans. Mais le final "Wraith" va prouver que leurs idées valent la peine d'être creusées également.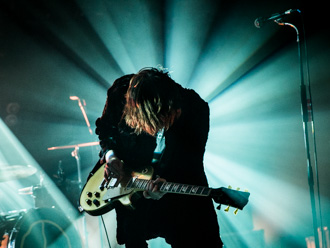 Mis à part un "Someday" qui va enfin mettre en valeur la voix d'Harry Koissier, il allait encore se passer beaucoup de choses lors des rappels. Entre une mini invasion de scène annihilée par la sécurité et un spectateur qui bousculera le chanteur dans le feu de l'action avant de tenter de prendre un selfie et de retourner illico presto dans le public, un fan réclamera tellement bruyamment "Higher Than The Sun" que le groupe finira par le jouer (et d'excellent manière), en plus du hit "Lovesick" et du précité "World Pleasure".
Après un rafraîchissement plus que mérité au bar, on s'est rendu compte en repassant devant l'entrée de la salle que la soirée n'était pas encore terminée pour les groupies qui étaient en train de poser avec leurs idoles. Quant à la suite, elle ne nous regarde pas…
Photos © 2015 Denoual Coatleven